---
---
DUCKY MECHANICAL KEYBOARDS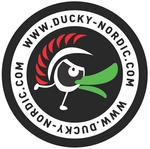 This page is dedicated solely to Ducky keyboards and related accessories. It's updated regulary and contains information on available and future models. One can also find a lot of information related to ordering process (international).

0. Special offers
1. Ordering and payment
2. Delivery
3. Support and warranty policy
4. Available products
5. Shine4
6. Legend
7. Topre Realforce 104UB-DK
8. Mini (Year 2014)
9. Cherry MX switch types



---
0. Special offers

KEYCAPS, KEYCAPS AND MORE KEYCAPS!

The following Ducky products are currently special priced.

Ducky Wrist Rest Transparent Acrylic fullsize .... 30 € 25 €
Ducky Wrist Rest Transparent Acrylic TKL .... 30 € 25 €

&raquo Back to table of contents


---
1. Ordering and payment

We sell&deliver premium Ducky mechanical keyboard products within EU and to selected countries outside EU. Orders and inquirys are made by sending email to




The webstore on our site can be used only for domestic orders in Finland. Other orders are done via email.

Pre-payment can be done currently via SEPA bank transfer or via credit card (VISA/Mastercard/Visa Electron). Both parties pay their own bank fees. For credit card payments we have a dedicated SSL-protected web portal so please don't ever send card information via email. No sensitive information is stored on our own systems.

All purchases within EU include Finnish taxes (VAT24%).

For outside EU purchases prices don't included Finnish taxes (VAT0%). Receiver is responsible for all possible local additional customs/tax fees. Those are charged by local authorties upon delivery.

There is no return policy on international orders. We advise all our customers to consider the purchase carefully before making an order.

&raquo Back to table of contents

2. Delivery

Shipping is done via Finnish post (Priority package, tracking provided, average delivery time is 3-7 working days). Typically delivery costs are around 25-35 euros, but they depend on e.g. country of destination and size of the package.

Price group 1: Belgium, Denmark, Estonia, Germany, Latvia, Lithuania, Luxemburg, Netherlands, Sweden
Price group 2: Austria, Bulgarian, Cyprus, Croatia, Czech Republic, France, Greece, Hungary, Irland, Malta, Monaco, Poland, Portugal, Romania, Slovakia, Slovenia, Spain, United Kingdom
Price group 3: Iceland, Norway, Switzerland, USA

Some smaller items can also be delivered using registered letter and then delivery costs are around 15-18 € (within Europe).

Combined orders with friends are encouraged as the price does not go much up when multiple items are added. For larger group orders we offer EMS (Express Mail Service). This service includes maximum compensation for lost or damaged items up to 1680 €.

&raquo Back to table of contents

3. Support and warranty policy

We provide support for Ducky keyboards purchased from us. You can reach our support via email at



Ducky keyboards have 2 years limited warranty. In case of possible warranty issues, please contact us for further instructions. Any shipping costs related warranty replacements shall be paid by customer. Free transportation for warranty replacements is not offered for international orders. Goal is always to resolve possible issues in a way that it's not required to ship back and forth the whole unit. All keyboards are manually tested before shipping.

&raquo Back to table of contents


---
4. Ducky Collection

KEYBOARDS

You can choose between various combinations of different kind of keycaps, Cherry MX switches and LED background colors. Not all possible combinations are available, but the amount of alternatives to choose from is still impressive.

Below is more or less complete list of current active models. Unless otherwise stated the keyboards have ISO layout with nordic legends and black keycaps. Availability may vary. Typical prices are between 109-159 euros.

ISO Nordic QWERTY

Ducky Mini ISO Nordic Cherry MX Blue Dual Color LED ... 129 €
Ducky Legend ISO Nordic black aluminum Mx Brown with white leds ... 149 €
Ducky Shine4 ISO Nordic MX Blue with multicolor leds .... 159 €
Ducky Shine4 ISO Nordic MX Brown with multicolor leds .... 159 €
Ducky Shine4 ISO Nordic MX Green with multicolor leds .... 159 €
Ducky Shine4 ISO Nordic MX Red with multicolor leds .... 159 €
Ducky Mini YotH ISO Nordic Cherry MX Brown Dual Color LED ... 209 €

ISO German QWERTZ
No models currently

ANSI USA
Topre Realforce 104UB-DK .... 229 €


ACCESSORIES

It's possible to customize your keyboard with separately sold keycap sets and even special single keycaps.

Ducky Nordic The Exoskull metal cap Cherry MX .... 39 €
Ducky Nordic The Ancient metal cap Cherry MX .... 39 €
Ducky Nordic The Butcher metal cap Cherry MX .... 39 €
Ducky Nordic Twin Sixshooters set Cherry MX .... 55 €
Ducky OMG premium yellow mousepad .... 35 €
Ducky Mini Keyboard Carrier .... 10 €
Ducky Shine4 Equalizer spacebar ... 5 €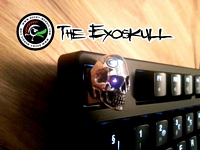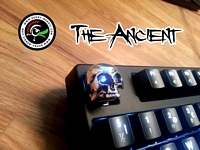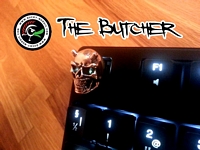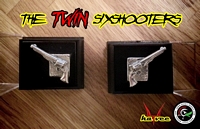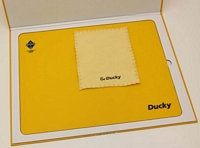 Artisan metal keycaps require a lot of handcrafting on several stages and no keycap is 100% identical. They may contain minor imperfections that do not affect the functionality. As metal does not strech it's also common that these keycaps are more loose than regular keycaps.

And don't forget to get a leather or transparent acrylic Ducky wrist rest!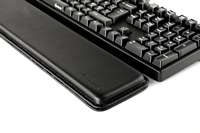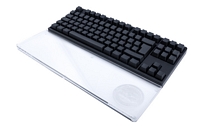 Ducky Wrist Rest fullsize Black .... 35 €
Ducky Wrist Rest TKL Black .... 35 €
Ducky Wrist Rest Transparent Acrylic fullsize .... 30 € 25 €
Ducky Wrist Rest Transparent Acrylic TKL .... 30 € 25 €

&raquo Back to table of contents


---
5. Shine4

AVAILABLE NOW!

Successor of legendary Shine3 available first with MX Brown and later on with other switches. Uses same multicolor LED technology as Mini. Stay tuned for more information!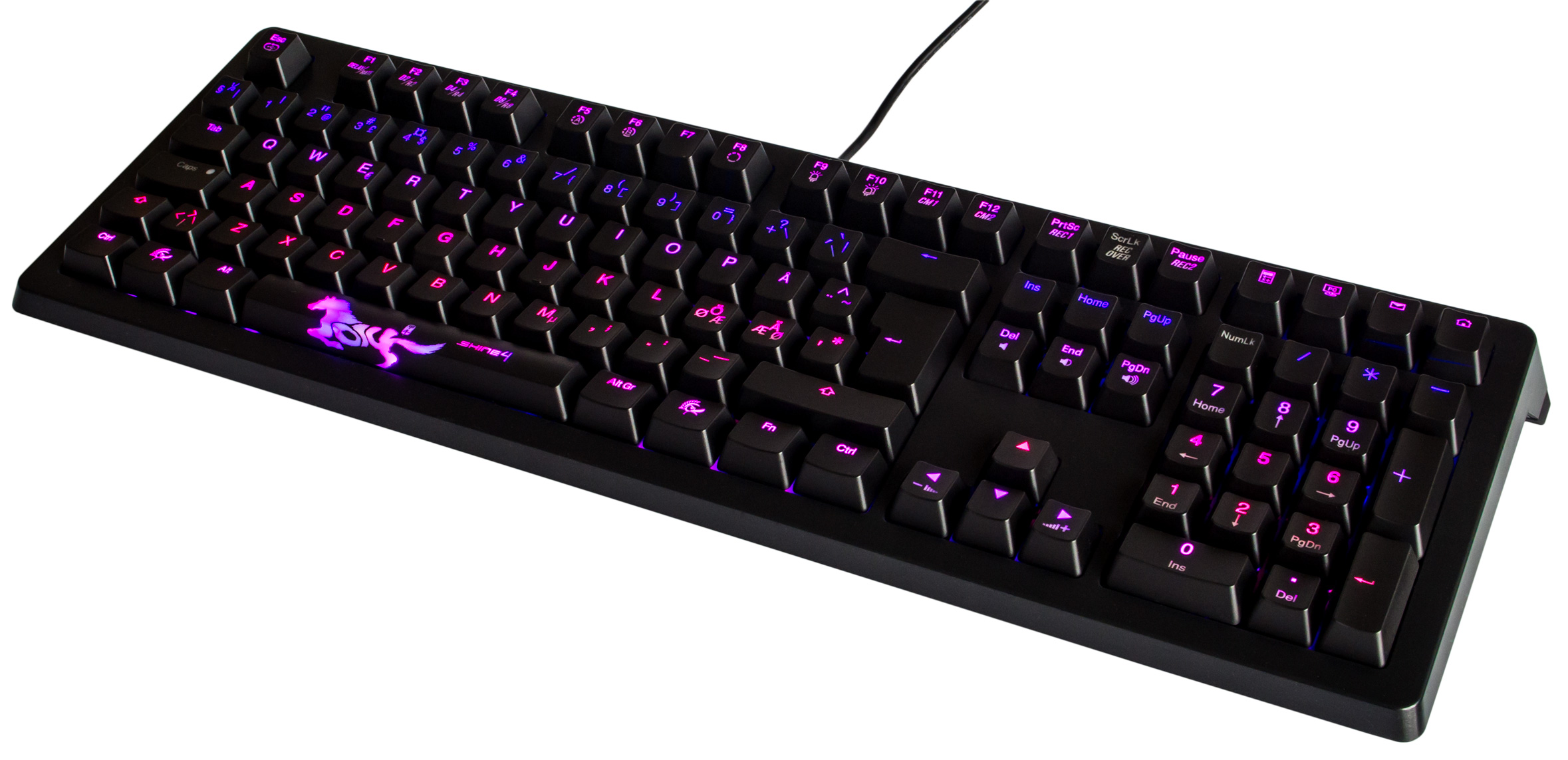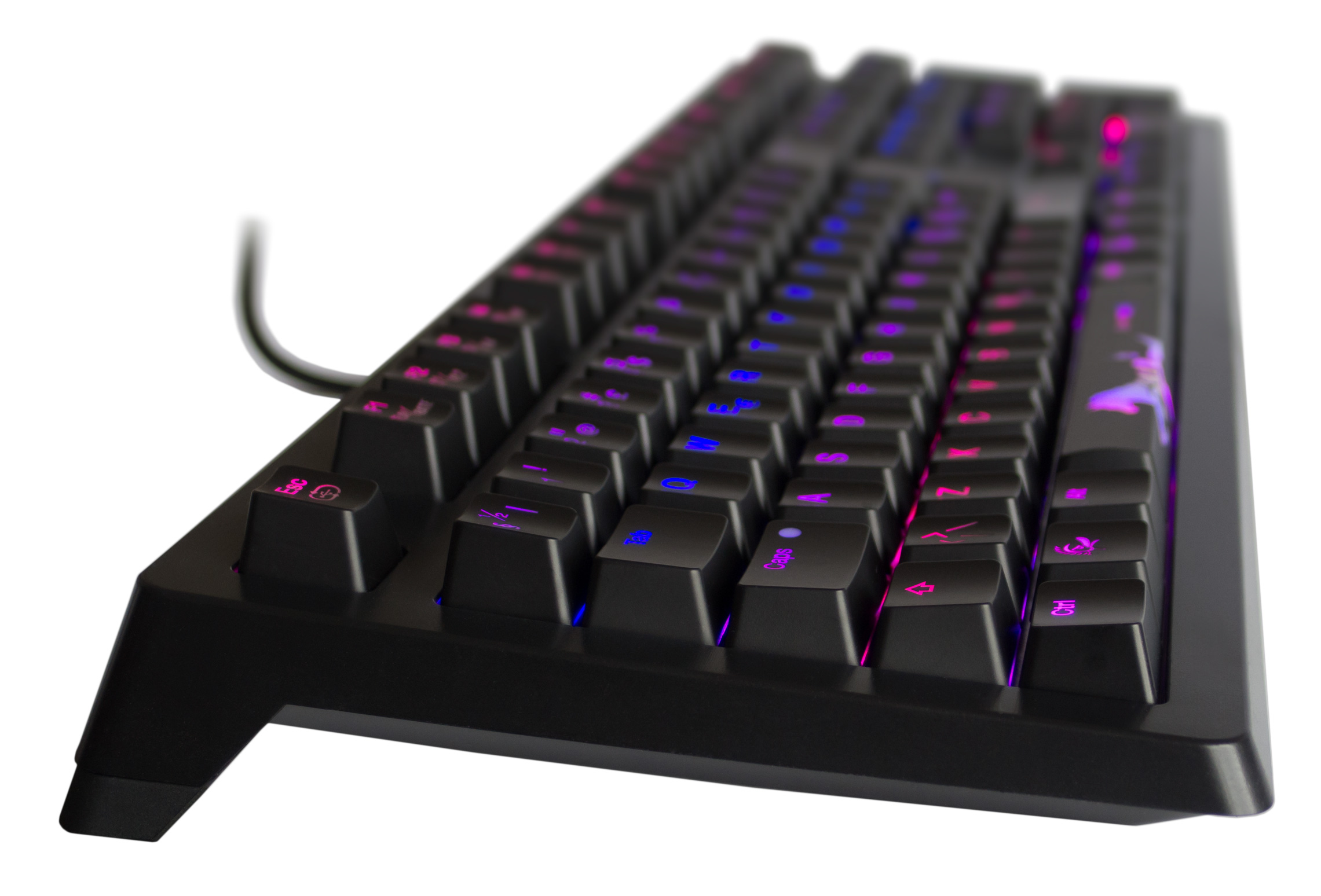 &raquo Back to table of contents
---
6. Legend

AVAILABLE NOW!

Ducky Legend uses 5 mm thick aluminum case top design for the most solid keyboard in the industry. The bead blast finished aluminum top is has a modern industrial look that is suitable on your desk for work or gaming. Ducky Legend is powered by an ARM architecture micro-controller and uses the most reliable Cherry switches. Even the PCB is dual layer construction to ensure the keyboard will work for years on end. The backlighting effects feature our most popular Reactive Mode, as well as User Customizable Zone backlighting, and our newest Explosion Mode. These backlighting effects give you a great keyboard to look at in addition to being a keyboard you can rely on.

&raquo Back to table of contents


---
7. Topre Realforce 104UB-DK ANSI

AVAILABLE NOW!

Quality mechanical keyaboard with PBT keycaps and 45g switches from Topre DK (Ducky Taiwan Topre distribution). US layout (ANSI).


&raquo Back to table of contents
---
8. Ducky Mini (Year 2014)

AVAILABLE NOW!

Ducky Mini is a reduced sized 60% keyboard design that encompass all the functionality of a full-sized keyboard. In addition, Ducky Mini includes mouse functionality that allows you keep your hands on the keyboard while you operate your computer. Ducky keyboards use only genuine German made Cherry mechanical key switches with unrivaled reliability and consistency. Dual color LEDs allows you to mix the two colors together for the exact shade you prefer, as well as displaying many eye-catching backlighting effects.

Ducky Mini Nordic edition is available with MX Red and MX Blue switches.

See more information and pictures from manufacturer's website.

Special edition - YotH

Only 2014 pieces were manufactured worldwide, all keyboards are numbered.



- Silver colored CNC aluminum case - PCB: Dual layer PCB - Laser etched UV-coated keycaps - LED Color: Dual Color LEDs (Blue / Red) - USB N-Key Rollover - 100% Full Backlight Mode, Reactive Mode, Reactive Mode Advanced, Raindrop Mode, Wave Mode, Color Cycling Mode - User LED Zone Customization Mode (2 sets of memory)

&raquo Back to table of contents


---

9. Cherry MX mechanical switch types in short:

MX Brown switch. Tactile switch 45g (55g peak force). A light switch with tactile bump feedback point when button press is registered. Very good for both typing and gaming. A mid ground choice between a linear and a clicky switch. If you are a first timer with mechanical keyboards the brown switch is a very safe and easily adaptable choice.

MX Red switch. Linear switch 45g (30-60g full path). A very light switch which is excellent for fast paced gaming. Is also suitable for typing if you prefer a really light touch when typing.

MX Blue switch. Tactile and clicky switch 50g (60g peak force). The classical and very retro keyboard feel. Bump feedback point and a click when a button press is registered. Excellent switch for typing if the side product generated, the noise, is not a problem for you. Can be used for gaming as well when the feel and the release point of the blue switch has been embraced.

MX Clear switch(fuzzy white). Tactile switch 55g (65g peak force). Similar tactile switch with feedback point as mx brown but heavier. Good for both typing and gaming. If you happen to like mx brown you most likely will like mx clear as well. Especially if you feel that mx brown is too light.

MX Black switch. Linear switch 60g (40-80g full path). A heavier switch for those who like to use a bit more force when typing. Very good for gaming, especially if you are bottoming and holding your keys often in games and need to really feel them beneath your fingers. Also suitable for typing if you like very firm feel and might even reduce errors while typing as you need more force register a button press.

MX White switch (milky White) is heavy soft click 85g (the stem is lubed inside, and click comes with almost no sound). The lubing also makes the MX white feel lighter than it is. If you like a good amount of feedback coming to your fingers without a big sound then MX white is the switch for you.

MX Green switch 80g is a hard click switch…or better said snappy click. It's the brother switch of MX blue but more snappy. If you like a clicky switch but feel that MX Blue is too soft then MX green is the switch for you.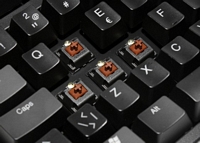 &raquo Back to table of contents